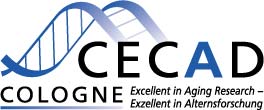 CECAD Cologne excellence, competence and the latest technology are combined to achieve top level research. In October 2007, the Cluster of Excellence in the University of Cologne was perceived as one of the most important research projects with outstanding perspectives in Germany. CECAD defines relevant questions on aging research across a range of disciplines. Forming a close network, our researchers in the clinics and the laboratories are developing novel approaches in four different areas of research. The goal is to understand the molecular mechanisms underlying aging processes, and to translate these findings into therapies for specific aging related diseases, such as diabetes, cancer and neurodegenerative diseases. CECAD holds a leading position in international aging research. Due to the cooperation with the Max-Planck-Institute for the Biology of Aging a unique center of competence in aging research has been created in Cologne. The Cluster is funded by the Federal and States Governments within the Initiative of Excellence.

Contact person: Dr. Sibylle Grandel
In the Cluster of Excellence on Plant Sciences (CEPLAS), the only Cluster of Excellence on Plant Sciences in Germany, scientists develop innovative strategies for sustainable plant production.
The growing world population, the increasing demand for food as well as anthropogenic climate change pose a huge challenge for sustainable food production and ecosystems maintenance. The scientific goal of the Cluster of Excellence on Plant Sciences CEPLAS is to investigate the basis and interplay of complex plant traits that have an impact on adaptation to limited resources and yield. The knowledge gained serves as a basis for designing and breeding of (crop) plants that react in a predictable way to future challenges ("SMART plants"). CEPLAS integrates the resources of the Universities of Düsseldorf and Cologne, the Max Planck Institute for Plant Breeding Research Cologne and the Forschungszentrum Jülich to form an internationally leading plant science center.
In addition to excellent research, CEPLAS is breaking new ground in the training of young scientists.
CEPLAS speaker: Prof. Dr. Maria von Korff Schmising (HHU Düsseldorf)
Deputy speaker: Prof. Dr. Bart Thomma (University of Cologne)
Contact person:
Managing Coordinator (CEPLAS Central Office HHU): Dr. Céline Hönl
Project Management at University of Cologne: Dr. Cordula Jörgens