The Institute for Plant Sciences , founded in 1928 as Botanical Institute, encompasses nine internationally linked professorships and hosts several independently funded junior research groups. The mission of the institute is to generate knowledge on the fundamental processes governing plant biology as well as provide upcoming generations of young scientists with excellent training and mentoring. We use state-of-the-art molecular techniques to address current challenges in plant sciences, especially in cell and developmental biology, molecular physiology, plant responses to the biotic and abiotic environment and adaptive evolution. The Botanical Institute is a major building block of the Cluster of Excellence on Plant Sciences (CEPLAS) that, together with the University of Düsseldorf, the Max Planck Institute for Plant Breeding Research and the Forschungszentrum Jülich, aims at developing new paradigms for crop improvement through exploitation of natural variation, biodiversity and synthetic biology.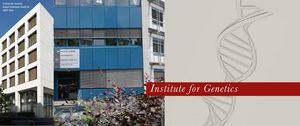 The Institute for Genetics, founded in 1962 by Max Delbrück, currently includes twelve professorships and several independent research groups that promote excellence in research and teaching in the fields of genetics and molecular cell biology. Research at the Institute for Genetics covers a broad spectrum of issues in molecular and computational biology. Molecular mechanisms controlling cellular homeostasis at all levels are studied in model organisms, complemented by evolutionary and computational approaches. The Institute for Genetics has a strong tradition of shared infrastructure and central service units, which allows young researchers to work within an excellent international research environment. This successful concept has been implemented both at the main institute building within the Biocenter, and at the recently opened CECAD research center on aging-associated diseases.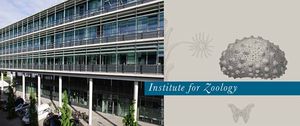 The Institute of Zoology is a multidisciplinary academic research and teaching institution that addresses biological phenomena at levels ranging from genes, molecules and cells to entire organisms, populations and ecosystems. Organismal research spans the entire tree of life from protists to vertebrates, including common genetic animal models like nematodes, the fruitfly Drosophila melanogaster, zebrafish and mouse. Research can be grouped into three main themes: Ecology and Evolution, Developmental and Cell Biology, and Neuroscience, using respective state-of-the-art technologies to better understand how animals function and how their outstanding capabilities develop and evolved. Within the frame of collaborative research centres, excellence clusters and other BMBF-, DFG-, EU-, NIH- and NSF- funded consortia, members of our institute have extensive research collaborations worldwide.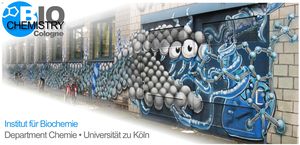 Our research focuses on the investigation of biological interactions and on structure-function relationships of proteins from various organisms, such as bacteria, algae, plants and animals.
We use numerous modern cell-based, biochemical and biophysical methods and techniques, ranging from X-ray crystallography, surface plasmon resonance, or isothermal titration calorimetry to immunofluorescence of cultivated neurons and other mammalian cell types.

Major research topics of the six independent research groups are metalloproteases, molybdenum-dependent enzymes, protein kinases, bioactive peptides and their synthesis, cell biology and biochemistry of inhibitory synapses in the central nervous system, as well as mitochondrial redox regulation, oxidative folding and regulation of mitochondrial protein import.

The Institute for Biochemistry belongs to the Department of Chemistry and is also associated with the Department of Biology. Research groups within the institute participate in the SFB 829, SFB 1218, SPP 1710, SPP 1927, CMMC, CECAD, EU ITN MagicBullet as well as in the Graduate Schools for Biological Sciences and the International Graduate Programme for Molecular Medicine.